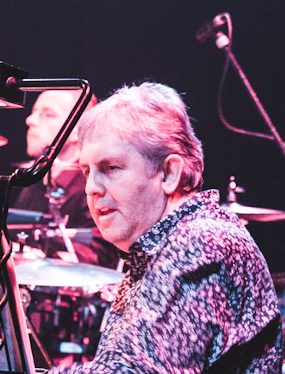 Paul is a native of Swansea in South Wales, and has been playing drums since around the age of eight. With a professional career spanning nearly 30 years he has earned a reputation as one of the most versatile and talented players around, enjoying success in many different genres from rock, pop, jazz, funk and big band, to a 100-piece orchestra for a live Radio 3 performance of Bernstein's 'MASS' with the BBC NATIONAL ORCHESTRA OF WALES.

His playing career started in the workingmen's clubs of South Wales at the tender age of 14 and then progressed to residencies with dance bands and rock bands before becoming professional in 1983.

Much of his professional career has been spent touring the UK and many other countries including Australia, Hong Kong, Korea, New Zealand and Dubai. He has appeared on countless television and radio programs working with a diverse range of artistes including the Chamber Orchestra of Wales, Michael Ball, Charlotte Church, Sasha Distelle, Dave Edmunds, Lesley Joseph, Eartha Kitt, Cerys Mathews, Leo Sayer, Larry Adler, Sir Harry Secombe, David Soul, Shakin Stevens, Bryn Terfel, Bonnie Tyler, Julian Lloyd Webber, and Toyah Wilcox. He has even featured in a televised drum duet with comedy legend Eric Sykes and recently appeared on an episode of the sky 1 series 'Stella'.

Paul has toured extensively with the likes of Freddie Starr, Roger Whittaker, Lesley Garrett, and Brotherhood of Man and has been a member of Welsh comedian Max Boyce's Band for 30 years. He has also completed three UK tours with the winners of the BBC's 'Last Choir Standing' program, `Only Men Aloud' and also in 2013 toured with X factor runner up Rhydian roberts.

Over the years Paul has also gained vast experience in the recording studio playing on many albums,and television theme tunes most recently on Only men aloud's new album 'On the road', Dan and Laura Curtis' album 'Love on 42nd street' reaching number one in the Amazon and iTunes Broadway and Vocal charts in the UK and US and also Welsh Television soap opera theme tune 'Pobol y cwm'.

During the last 15 years, Paul has been a regular member of the SWANSEA JAZZLAND house trio, playing for many visiting musicians including Jim Mullen, Mornington Lockett, Dave O'Higgins, Bruce Adams, Dick Pearce, Lee Gibson and many more.

Since 2017 he has been part of the British pop band 'The Korgis' ('Everybody's got to learn sometime') and has just finished recording their new album
'Kartoon World' and he's also recently finished recording an album with his wife 'Elaine Gilmore' called 'Love is still the answer'.

He has also worked on many theatre shows including UK tours of Saturday Night Fever, Grease, and Crazy For You.

Paul is also a busy teacher taking pupils of any age through different styles including jazz, rock, pop, theatre.

Because of his consummate skill and total professionalism, Paul is consistently called upon to play at the highest level in some of the most demanding `live' and studio situations.

Below is a list of some of the many television programs he has worked on.


'CODI'R TO' - S4C (8 SHOW SERIES)
'MARDI GRAS' - S4C (8 SHOW SERIES)
PETER KARRIE 'UNMASKED' - BBC (SERIES 1 AND 2)
SIAN COTHI - S4C (6 SHOW SERIES)
MARGARET WILLIAMS SHOW - S4C (6 SHOW SERIES)
'NIA' - S4C (SERIES 1 AND 2)
MAX BOYCE - 'IN CONCERT' (VIDEO)
MAX BOYCE – 'PLANET MAX' BBC (4 SHOW SERIES)
MAX BOYCE - 'AN EVENING WITH MAX BOYCE' BBC
MAX BOYCE - 'MAX GOES TO SCHOOL' BBC
MAX BOYCE - 'SUNDAY NIGHT LIVE AT THE PALLADIUM'
MAX BOYCE - LIVE AT TREORCHY AGAIN 2011
'CHIS A MEINIR' – S4C (SERIES)
'PENBLWYDD HAPUS' – S4C (2 SHOWS)
WELSH ASSEMBLY OPENING CONCERT (BBC N.O.W.)
TELEVISED EISTEDDFOD CONCERTS S4C
BRYN TERFEL'S 'Y FEANOL' FESTIVAL (2 YEARS)
'JONES JONES JONES' - S4C (TV SPECIAL)
RUTH JONES – 'RUTH'S CHRISTMAS CRACKER' BBC
FREDDIE STARR - CARLTON TV (6 SHOW SERIES) ITV
FREDDIE STARR – 'LIVE AND DEVELISH' (VIDEO)
OWEN MONEY - 'MONEY IN THE BANK' - BBC (SERIES 1 AND 2)
RHYDIAN ROBERTS-TELEVISION SHOW 2011
RHYDIAN ROBERTS-CHRISMAS SPECIAL 2011
WYNNE EVANS(GO-COMPARE)-TELEVISION SHOW.
'UNDER MILK WOOD' FILM - MUSIC COMPOPSED BY MARK THOMAS, DIRECTED BY KEVIN ALLEN. - 2014
'STELLA' - SKY 1 SERIES FEATURING RUTH JONES. SERIES 5, EPISODE 8. 2015
'POBOL Y CWM' (WELSH SAOP OPERA) SIGNATURE TUNE - 2015
'C'MON WALES' - TELEVISION SHOW WITH THE BBC NATIONAL ORCHESTRA OF WALES FOR WALES' EURO 2016 FOOTBALL CAMPAIGN - BBC WALES
WELSH NATIONAL EISTEDDFOD OPENING CONCERT FOR S4C WITH 'ONLY MEN ALOUD' 2016



PAUL PLAYS TAMA DRUMS, ZILDJIAN CYMBALS AND AQUARIAN DRUMHEADS.